Affiliate Marketing: Just the FAQs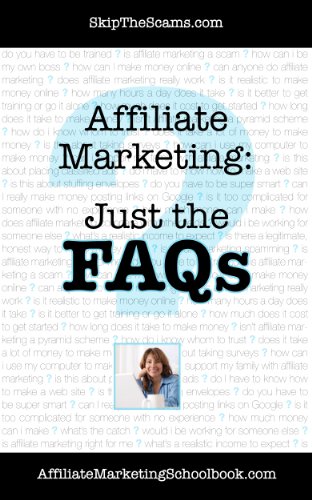 Who hasn't dreamed of working from home on the Internet? Maybe the idea is to stay at home with your small children. Maybe you have health problems that prevent you from holding down a regular 9-to-5 job. Or you simply function better independently as opposed to being tied to a location, a demanding boss, and those annoying co-workers.
Many turn to affiliate marketing as a way to free themselves from those restraints. However, there's lots of conflicting info out there, not to mention scams up the wazoo. Beginners find that the deck is stacked against them right from the start. It's overwhelming trying to figure out what's true and what's false.
That's where this informative, concise ebook comes in. It answers all the common questions about affiliate marketing and will help you determine whether it's something you want to try.
Some of the questions are: What is affiliate marketing? Is it a legitimate way to make money online? What does it involve? How much does it cost to get started? How much money can you make?
No reason to hack your way through the jungle of Internet marketing on your own. Get yourself armed with the facts – or should we say, the FAQs!?!
[ccw-atrib-link]