Hi,
Today's main news is about a new cool site that I just launched with the help of Aurelius Tjin and that you can use very simply to earn 100% on each $7 sale…
1. Ok, so let's get started right away with the cool news…
How do 100% profit on a $7 manual sound? My good buddy, Aurelius Tjin… or how I call him: Mr. Unstoppable Action, created this manual for us.
This manual is the answer to all the problems that most online marketers face.
It's called "Unstoppable Peak Performance". How to focus, earn more, work less and overall enjoy more of life.
Go check it out here: UnstoppableAction.com
The main problems he sees that most online business owners face are things like information overload, having no focus or direction, no vision, no system that runs your business and overall can't get things done.
So what he has done is written a thorough guide on how to overcome all of these problems. He has actually used all these strategies to help him succeed online and I know that it will for you too.
Go here to take a look at what I'm talking about: UnstoppableAction.com
You'll discover things like:
* How to build momentum that your business will multiply like a snowball.
* How to overcome information and idea overload
* How to concentrate on productive activities
* How to "copy" your way to success
* How to systematically run your business so you can have more time to do the things you love
+ much much more. That's just the tip of the iceberg.
So, how can you earn 100% of each $7 sale? Very easy. All you need is a PayPal account.
Get your promo tools and referral link at: UnstoppableAction.com/promotools.php
Oh, and by the way… there is no need to signup or register. You can instantly earn $7 payments into your PayPal account. In fact… e.g. Detlev Reimer from PromoBuddy.com, bought the manual, saw the value and made 18 sales in about 24 hours. Maybe you will do more, maybe less, who knows? But can you see the potential?

2. Just another 6 weeks and I will attend the World Internet Mega Summit in Singapore! Will I see you there?
Again, Aurelius Tjin and I will fly there together to see e.g. Jay Abraham, Mark Joyner, Mike Filsaime, Stephen Pierce and many, many others.
To spot me there… just keep your eyes open for somebody that wears one of the shirts below…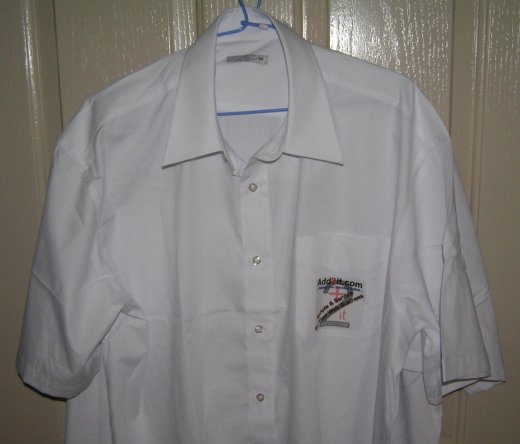 The front of the shirts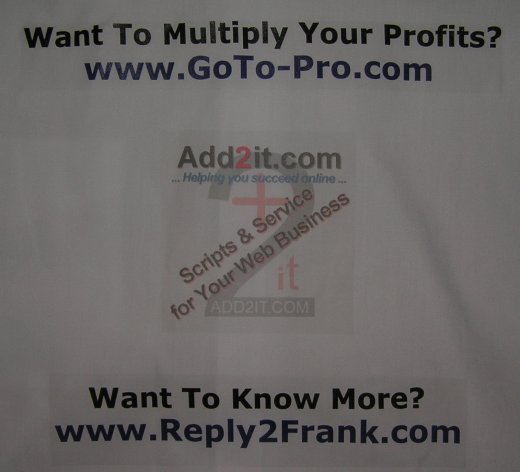 The back design type one of shirt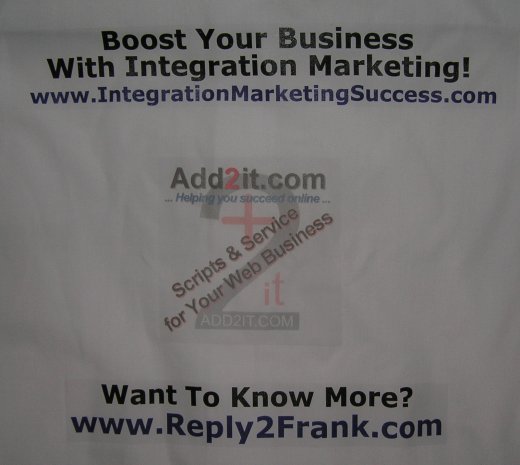 The back design type two of shirt
If you haven't gotten you ticket yet, it might be too late… you can check if there are still tickets available at:
FrankBauer.name/recommends/WIS

3. If you personally use any Add2it script, please send me your testimonial. This will also benefit yourself by giving you free publicity and increasing your conversion rate and generating more commissions. Send me your testimonial here…
www.Add2it.com/see.pl?Testimonial

4. There is additional marketing material available in the affiliate / reseller area… you will find ready to use and with your affiliate / reseller link customized classified ads, flash banner ads with instructions on how to add them to your site, a solo ad and more.
5. You can check your statistics anytime online at:
To login you will need your username as well as your password.
6. You can find details about your upline, downline, you can get your sales data, your link & banner codes and you can track your advertisments… visit your personal affiliate area at:
Add2it.com/ref/affiliates.cgi

7. If you have ideas on how to improve the program or if you need my help, please open a helpdesk ticket at:
www.Add2it.com/helpdesk/

Thank you very much for your help and support.
If you have any questions you may contact me at anytime.
'Whatever the mind can conceive and believe… it can achieve.'
Napoleon Hill, Think & Grow Rich
To your success,


Frank Bauer
Owner of FrankBauer.name & Add2it.com