Hi,
To get something straight before I get started… I like the Warriors Forum and it's members, a great place to get questions answered. I even like some of the Moderators… the smart ones. Well, but sadly… some Moderators are walking on the dark path of the power…
Tonight the Warrior Gods have spoken… depending on your own belief, you might call them something else, like e.g. "WSO Moderator".
What did they say? No more freedom of speech!
Ok, let's get to the point and I let you be the judge…
Here is the final version of my post that has been deleted from the Warriors Forum :
In case it's too small… here is the text again:
Hi Warriors,
Let's meet at the World Internet Main Event this September in San Francisco and have another Warriors meeting like we had in Singapore.
As mentioned before… it doesn't have to be a formal meeting like in Singapore, even a friendly get together at the Marriott Hotel bar at e.g. 8 pm PST on the 12th of September would be great.
For those that didn't make it to the Singapore meeting… we had about 40-50 Warriors there… Joseph Then, Kevin Riley, James B. Allen, James Brown, Aurelius Tjin, Ladan Lashkari, Bruce Gibson, Ian del Carmen, Lyna Murray, Vince Tan, Gobala Krishnan, Melvin Ng, Dee Ferdinand, Andrew Hansen, Dane Bergen and many other.
You can see some pictures taken at the last Warriors meeting at:
Here are some more details…
The event will he held 13th to 16th of September in San Francisco at the Airport Marriott Hotel…
www.marriott.com/hotels/travel/sfobg-san-francisco-airport-marriott/
BTW… the group discount code for that Hotel is: IMMIMMA
I will personally be in SF from the 12th until the 19th and I am looking forward to meet as many Warriors there as possible.
If you will attend, please post that here… if you need a room mate for the time there, this also the ideal place to post that.
Did you see anything in that post that is against Warrior Forum guideline?
I don't, so when this was deleted, I tried with a friendly posts to get a quick reply from a Moderator (aka God) to see what needs to be changed in order to be allowed for posting.
That post got deleted and no reply came.
I tried a second, still friendly tone, post… which got deleted again without any feedback.
Well, that's when I decided to speak up a bit to get a response…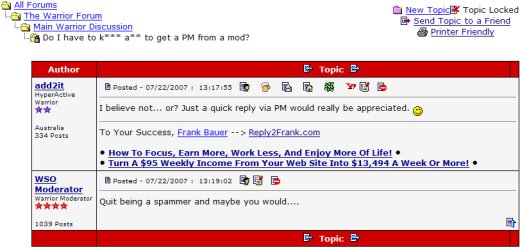 As you can see, that got a reply, just not a helpful one.
So… I replied to that reply in different ways to get a quick 10 seconds reply that would help to solve this problem in regard to what triggered the Moderator delete finger… and finally I got a PM for "WSO Moderator" (aka God)…
Hmmm… what does this mean?
No more freedom of speech?
No more spam on the Warriors Forum? Yeah!
Just another WSO Moderator with a bad hair day?
Stop whining Frank!
Let me know what you think!
Update July 25th: After a little more trial and error (trying the changes recommended by commenter's)… I FINALLY got a PM reply that was a bit more helpful from somebody with moderator rights (that is not a moderator himself)…

I replied to Michael and told him that I don't have any intention to challenging any moderators or Allen's authority. I asked him then what part of my message made him believe so and offered to rewrite or remove that part.
Also, regarding publishing PM's on my blog (which are in my opinion nothing else then emails that we all receive every day) I told him that even the police can use them as evidence, so why not the receiver of such messages?
He then replied to me something that made things more clear to me… he was struck by the fact that I stated that I reposted it after it had been deleted. In his opinion, this in itself is a no no.
I told Michael that it wouldn't be ok if the offender posts the exact same message again. If he got no feedback of the moderator and tries now a different version to get it approved, that's ok in my opinion… better would of course be if the moderator simply tells why it was not approved, so the offender can simply learn and adjust his approach.
Anyway… Michaels next comment was very revealing…
[quote]However please understand that since the question of your seminar post has enjoyed such "publicity/controversy" on the forum I cannot see my way clear to allowing this particular item to be reposted…[/quote]
So, what Michael was basically saying was that the topic is banned for me because some moderator was too lazy to tell me straight away why it was removed in the first place.
But if only I am not allowed, no problem… you can simply post that topic for me. Please let me know once you did.
'Whatever the mind can conceive and believe… it can achieve.'
Napoleon Hill, Think & Grow Rich
To your success,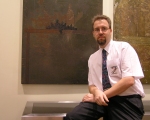 Frank Bauer
Owner of FrankBauer.name
PS: I will I see you this September at the World Internet Main Event in SF? Looking forward to meet you in person.