Stuart Stirling has done it again… this Aussie Internet Marketer from Japan showed me his latest Viral Builder system and walked me through it. And again, I believe it's pretty cool.
Here is what Viral Builder does for you in a nutshell…
Viral Builder is free to join and allows you to build your Aweber, GetResponse, Add2it MailResponder Pro or other Autoresponder list up to 5 times faster then without this service while at the same time promoting and building your list in ViralPLR or any other site for that matter.
You can simply send traffic to one URL and build two lists and earn commissions with two sites faster then each one on their own.
Let me show you how it works…
After you signup for free you need to first setup your account by clicking on "My Profile". It's just a single screen and easy to do.


The picture is only needed if you plan to become a Founding member, it will then be used in the Founding members directory and in the Founding Members ads section.
If you are an Elite or Founder member then you should enter your ViralPLR referral link in the "Exit Pop" URL field. Add "-t-ViralBuilder" at the end to track the results.
The how to videos that show you how where to get your autoresponder subscribe form code are in the "Videos [Tutorials]" section.
Once you added your own autoresponder subscribe form code the system is ready to increase your list building speed 5x.
For all people that you refer to Viral Builder, you will earn a minimum of 60% commissions (and up to 100% commissions) on membership upgrades, even if you yourself are simply a free member.
The first 4 people that you refer to Viral Builder will be added the the autoresponder of the person that referred you to Viral Builder and in exchange for those 4, you will get the first 4 referrals of every single person that you refer to Viral Builder and that way, for every single person you refer, your own autoresponder list will actually grow by up to 5 people… wow!
Next you should add your banner & text ads to their system by clicking on "Set Up My Ads".

For both ad types, banner & text ad, I recommend to enter your ViralPLR referral link. Again, add "-t-ViralBuilder" at the end to track the results.
Finally you should enter your affiliate links in the "Downline Builder" section and also enter your (if you choose to upgrade, up to 6) own programs of affiliate URL's of site you want to promote into the "My Programs" section of Viral Builder.
Here is what I entered in the "My Programs" section…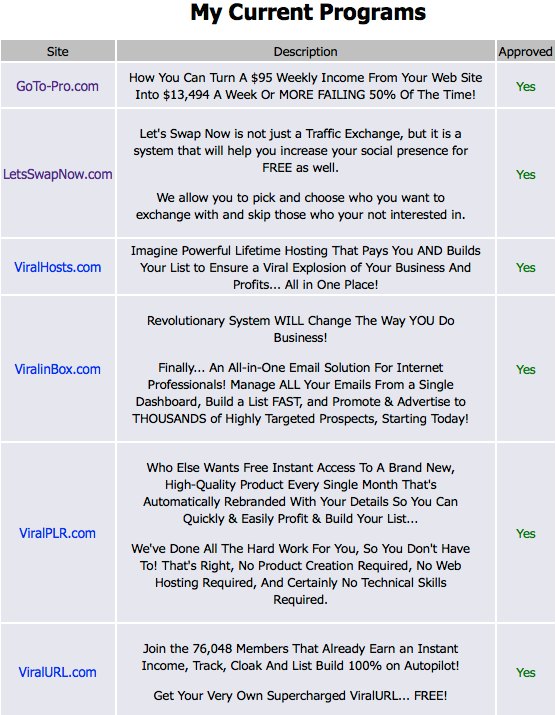 You could add any site or product you own or that you are affiliated with, such as ViralPLR.com, ViralURL.com, ViralinBox.com, etc.
This is another great way to build your own list not just through your own referrals, but through all your referral in Viral Builder. I would say that next to the ability to speed up your list building process, this is the second best feature of Viral Builder.
Options to upgrade…
If you where wondering if there are also paid upgrade options… yes, of course there are. But even the free membership option on it's own is really useful.
Let me show you the different membership levels…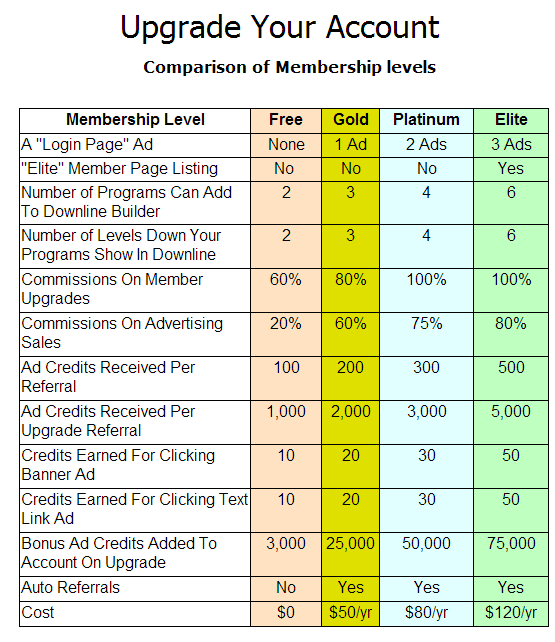 To sum it up… the upgraded membership levels give you additional downline building exposure and higher commissions.
But like I said before… even as a free Viral Builder member, you gain the main benefit of speeding up your list building efforts 5x and for that alone, I highly recommend to join Viral Builder right away!

To Your Success in Business & Life,