See how joining Frank's favorite program will give you
$50 worth of banner & text ads for free!
Global Domains International, Inc.
https://www.youtube.com/watch?v=6iDXp_koz8Q
Hi, my name is Frank Bauer and I am the director of Add2it.com Marketing Pty Ltd – Marketing Software Scripts & Services for Your Web Business.
When I joined GDI on the 4th of August 2004, one of the main reasons for me was that I wanted the more4you.com domain name for my More4you Blogletter.
When I checked, that domain was already registered but not yet used for anything. So I contacted the owner and asked if he would sell it to me.
To make a long story short… he didn't want to and yet even today there is no web site at that domain.
Anyway… on the 4th of August 2004 Eva Browne-Paterson introduced me to Global Domains International, or short GDI, and I got more4you.ws through them.
Their online video did a great job of showing me that GDI is a great company and business opportunity… so I joined them right away.
The very first month I recommended GDI to pretty much everybody I knew and ever since my commission check with them grew almost every single month… and I have to admit that ever since that very first month, I promoted GDI way less then I should have.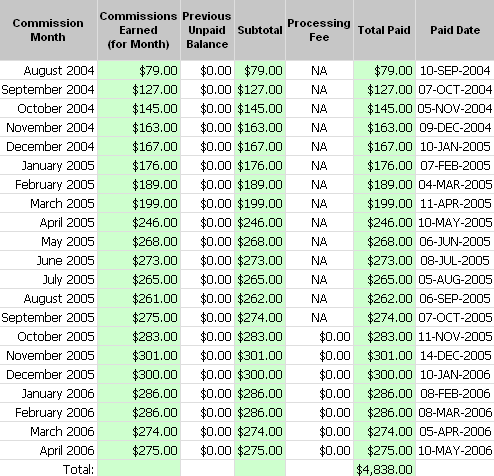 Now, let me explain how you can try GDI risk free for a total of 5 months!
There are 3 easy steps you need to follow…
1. Click here to signup for the 7 days free trial of GDI.
2. Within that 7 days, pay your first month subscription fee of only $10.
3. Contact me and let me know your GDI username.
That's all.
I will then send you instructions on how to claim your $50 worth of banner & text ads, that's 25,000 banner ad plus 25,000 text ad impressions on over 4,300 web pages.
This alone equals 5 month worth of your GDI domain name & hosting fees!
But that's not all… I will also show you a turn-key system that you can use to promote GDI and earn a really good extra income and who knows… maybe sometime in the future even an income that you can retire on.
Now, click on the link below to join GDI's free 7 days trial and I am looking forward to welcome you into my team.
Bye!
Want to know more about GDI? Click here!
Who is Global Domains International, Inc. (GDI)? GDI is an Inc500 listed company that has been the #37 fastest growing private company in the USA. Their main product are .ws domain names incl. web hosting, email addresses and a business opportunity that is second to none. Join GDI's 7 days free trial today!
Eva Browne-Paterson & I have been on the .ws Internet Show on the 8th of May…
Click on play to listen to the show!
The resources Eva Browne-Paterson & I recommend during the show to promote GDI is…
Other useful tools I use to promote GDI are…