Today there where four speakers, Gail Bottomley, Shaune Clarke, Dr. Mike Woo-Ming with Brian "Koz" Kosobucki and Ewen Chia.
Gail mentioned something that makes a lot of sense… always have a URL shown in any video that you submit to YouTube.com as well as mention a URL starting with http:// in the video description.
So far not really new… but she mentioned that YouTube now allows you to edit and add subtitles (e.g. the URL) after uploading a video to it.  That's cool as I had a while ago uploaded some without the URL, and this allows to add them later without having to re-upload a modified video version.
Also, to be able to upload more video, make sure you choose "Director" as your YouTube channel type.
Another nice tip I picked up from her is not only answer other peoples questions in Yahoo! Answers for quality backlinks (in your signature), but to build ebooks based on questions found there.
Shawn was an very entertaining speaker that had some great tips to share as well…
Here is what I picked up from him:
1. Don't just try getting traffic… Get highly responsive and targeted traffic with commercial intend!
2. Write your newsletter for the 2-3% of the visitors that purchase (speak directly to them).
3. Let somebody read your sales letter out aloud to you (or at least read it yourself aloud) to be able to pick up better on problems in the sales letter ad copy.
4. A sales letter should feel personalized and like it's spoken directly to the reader.
5. A cool way to not only create a product in 6 hours and have traffic generating materials at the same time:  Do a 6 expert interview series… each plugging the product of one person that you interview (your affiliate link)… that way, sharing revenue… each interviewed person inviting their list to register for the calls (building your list).  Then use the transcribed versions of the interviews as articles in article directories get backlinks and traffic.
6. When you invite specialists on a topic for an interview, write them… "I am quiet intrigued on your take on XYZ.  I would love to an interview with you.  I promise, it won't be a lame question and answer interview. It will be a dynamic experience you and I will remember quiet some time."
7. During the interview, use questions like… "How did that make you feel?  Earlier you said XYZ. What did you mean by that?  How did you do that?"
The next speakers were Dr. Mike & Brian.  They had a create tip on what keywords to target… those that target buyers close to the end of the buying cycle.
Also, their tip for the free SRDS directory at NextMark.com was interesting.
I was able to catch Dr. Mike in the hallway…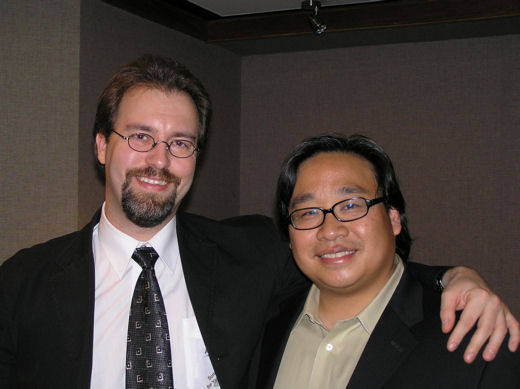 Ok, time to wrap it up for tonight… don't want to work again til 3:30 am like last night. 
'Whatever the mind can conceive and believe… it can achieve.'
Napoleon Hill, Think & Grow Rich
To your success,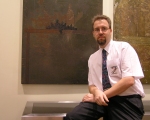 Frank Bauer
Owner of FrankBauer.name